Recommended Sonoma County Restaurants
Sonoma County has a wonderful variety of restaurants for our guests to enjoy during their stay. Area dining offers something for every occasion and palate. If you would like assistance with dinner reservations we would be happy to assist you when making your reservation or after your arrival at the inn. You may view our extensive list of recommended restaurants below.
Walking Distance | 10-20 Minutes | The Coast (20-25 Minutes) | 25-30 Minutes
Contact us with your dining requests, and we will make reservations for your visit to Sonoma County.
---
Walking Distance
Hazel: Husband and wife chef team, Jim and Michelle, are committed to using local, seasonal and sustainable produce, meats, and fish to create memorable food & baked goods. The restaurant features two wood fired ovens to produce rustic, Californian-Mediterranean inspired cuisine. Dinner – Wednesday to Sunday.
Negri's: Negri's has been serving Italian family-style dinners since the 1940s. A loyal following of regulars have made Negri's a tradition for celebrating holiday meals and family get-togethers. Summer campers from 50 years ago now share their dining experience at Negri's with their grandchildren. No reservations needed. Dinner -Friday to Sunday.
El Mariachi: An innkeeper's favorite for very casual, authentic Mexican take-out nachos, burritos, and more. Open for lunch and dinner. Closed on Wednesday.
Barley and Hops Tavern: Featuring local, regional, and global hand-crafted brews and mouthwatering pub fare. Closed Monday and Tuesday.
---
Gravenstein Grillis proudly partnered with local farms, ranches, wineries, and breweries to bring you some of the best Sonoma County has to offer. Chef Simontacchi's careful touch brings out the best in some of the world's finest ingredients.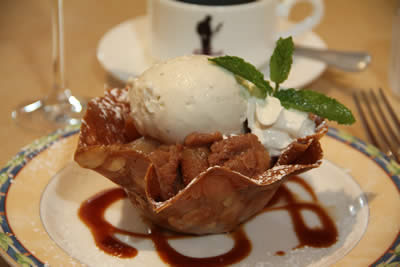 Rocker Oysterfeller's: Valley Ford's most recent restaurant features Southern-style comfort food prepared with the freshest farm-to-table ingredients. In keeping with their locavore sensibilities, the wine list proudly features Sonoma County wines, while the Saloon's full bar is populated with micro-brews and locally produced spirits. The cypress-covered patio is a lovely setting for dinner or Sunday brunch.
Willow Wood Market: The locals know to head west to Graton for the delights of this old-style market cafe. Enjoy daily specials featuring delicious organic fare and decadent desserts. Don't miss their amazing gingerbread cake. No reservations needed.
Underwood Bar and Bistro: Just 10 minutes away from the inn, Underwood Bar and Bistro is a popular neighborhood destination. The "tapas and small plates" menu features tuna tartar, white anchovy crostini, padron peppers, Hoisin glazed baby back ribs, Chinese broccoli, and harissa fries. Great wine list and full bar.:
Goldfinch: An easy 15 minute drive to downtown Sebastopol and discover a modern American bistro highlighting the comforts of good food and friendship. Open 7 days a week for lunch and dinner.
Blue Ridge Kitchen: Located in The Barlow, this farmhouse style wood grill and cocktail bar offers something for every taste. Designed for family style sharing, the menu is made up of large and small plates. Open 7 days a week for lunch and dinner.

---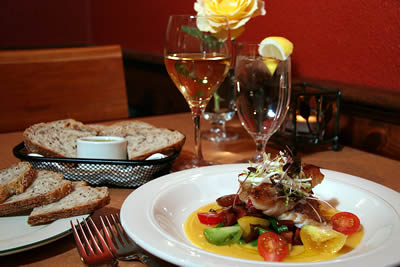 River's End: Gorgeous sunset views complement delicious California cuisine at this bluff-top restaurant overlooking the Russian River. River's End features a new menu every two weeks. Reservations recommended. Closed Wednesday and Thursday.
Drake's Sonoma Coast: Renowned for its fish and meat entrees, this restaurant on the Sonoma Coast offers a variety of wonderful dishes. Spend a relaxing evening driving to the coast from the inn.
Tides Wharf: Specializing in seafood, this casual restaurant is located north of Bodega Bay, just off Highway 1. On the innkeeper's recommendation, enjoy a bowl of tasty clam chowder. Snacks and takeout are available at the Tides Market.
Terrapin Creek Café: A casual neighborhood spot in Bodega Bay where friends and neighbors can gather to enjoy great local and international cuisine. The husband and wife team are expanding the notion of comfort food to include dining that is delicious, affordable, and responsible. This unpretentious restaurant had a Michelin star and is consistently a favorite.
---
25-30 Minutes (And Well Worth It)
Dry Creek Kitchen: Located in the Hotel Healdsburg, Charlie Palmer's restaurant features California cuisine highlighting regional ingredients and complemented by Sonoma wines.
John Ash & Company: Setting the standard of excellence for wine country cuisine, this Sonoma County restaurant overlooking acres of adjacent vineyards features locally sourced wines, produce, and meats. Reservations recommended.
Barndiva: Prix Fixe dinner menu served Wednesday to Sunday at this Michelin restaurant. Bravas Bar de Tapas: Traditional Spanish and modern tapas-style dining with small and large plates, including paella. Indoor and outdoor dining options in a great setting.